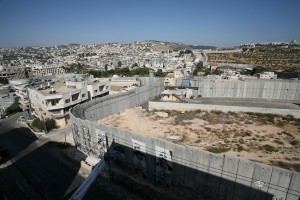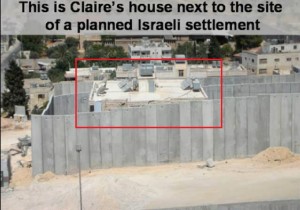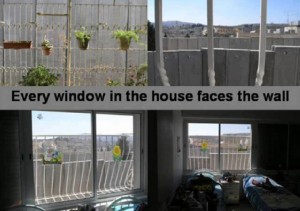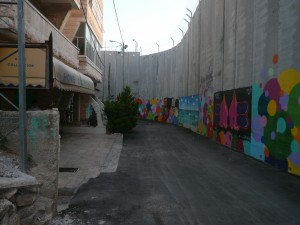 CLAIRE ANASTAS: "WE ARE IMPRISONED, BURIED ALIVE IN A TOMB"
I am Claire Anastas, a mother of two children, two girls and two boys. We live in this building, surrounded on three sides by a nine-meter Wall, with fourteen persons including nine children and my mother in law who is sick and has rheumatism. Only one side is open, with barely any sun coming through it. While sitting in the kitchen I see three walls. The army is going to build a fourth one, in the middle of their camp. As we live nearby Rachel's Tomb, our house is subject to severe military measures. Our shops — two for home accessories and another two for car mechanics — are located below in the building. They are closed, there is no business. In front of our house used to be the main street to Bethlehem. It was the richest area of Bethlehem here but now it is a small scary place. We are without neighbors; we just live with two families on our own. We are imprisoned; we are buried alive in a tomb.
During the years of the second Intifada, we already experienced much pressure. In 2002, there was a lot of shooting. We lived in a cross fire. There are high positions around our house, and the soldiers occupied them. People were shooting at them from different directions.
My children were paralyzed of fear and could not even use their hands. During some of the shootings the bullets entered our house. We did not know where to hide; we did not know where to go. The situation lasted one year. Each night my children were waiting when the shooting would start. They shouted, "Now is the time for shooting, we don't want to sleep in our beds." We had to sleep on the floor, near the door. The six of us slept there, in sleeping bags, next to each other. Our oldest girl slept on a chair.
* * * * * * *
Since five years we don't have any work. Our business lives have stopped. The last two years we cannot bear it. Two years ago they cut the electricity for four months because we could not pay the bill. We extended the wires from my brother in laws house so as to have electricity at least for the important things like the fridge and other main house utilities. In 2002 my husband cut his hand. He was so nervous about the situation. At the time he started to take debts. Instead of fixing the car he cut his hand. His hand is now always painful; half of it is paralyzed. The churches gave a little help, like our children as schools which reduced the fees.
One of our children, 13 years old, got two germs in his legs because the workers were digging for sewage pipes while clearing the ground for the building of the Wall. His legs are sensitive to dust and sand. I sent him to five doctors. Initially they did not know what it was. It looked a new kind of infection. Despite antibiotics, he did not got well during the 1.5 month they were digging there. I asked an international who was on a visit to bring water from the Dead Sea. That helped, until now the infections have not come back. Now he can wear his shoes normally.
It is unhealthy here. We have down a play ground but who wants to play with a nine-meter high Wall around? Other parents could send their children on a bus trip, but for us, to send 7-8 children is too expensive, as we donat want to favor some of our children above the other. So I keep my children in the same area, just inside the Bethlehem district. That is terrible. They should enjoy the summer, the holidays, as in any normal life, they should swim. Now they just go around and visit our families.
We are waiting for our shops to open but I now have no hope. Clients are afraid to visit this military zone. Even our family is afraid to pay us a visit. My children are deprived from having friends coming along, from other children playing with them. All the time there are so-called emergency checkpoints set up by the army. I myself, four days ago, was unable to enter my house. They closed the area for a Jewish feast; the religious Jews came to pray at Rachelas Tomb. I went to bring my husband with the car, my children stayed in the house. No one told us that they were closing the area. When I returned with my husband a large area around the house was closed. I tried to go to the gate at the nearby military headquarters. I spoke with the soldiers there, waited for two hours at different military barriers. A high-ranked officer came out of a jeep and told us to go away. aWhy are you here?ae he asked. I told him, this is my house. I showed it to him. I told him that I needed to enter to sleep here. I told him that I had young children; that they were waiting for me. He said to me that they could take care of themselves. It was incredible. I told him, "Where do I have to go, I need to sleep in my house!ae He said, aTurn around," in Hebrew. He told the soldier at the gate, "Don't let them stay here, they should go away." The soldier at the gate stood as if frozen and did not do anything, as if he did not want to follow this inhuman order.
We were thinking to go to the Nativity Square, to the church, to ask to sleep there. After all, it was midnight, everyone slept. Then I called my brother, who told me to come over quickly and sleep in his house. When I called my children, my youngest son asked to sleep in my bed, together with his oldest sister, so as to feel more comfortable. My brother in law asked next morning the military leaders to let us enter. We were late for the church and I wanted to pray. There was still a closure. My brother in law asked them for mercy, and to allow us to go in and out. A relative had died and we needed to attend the burial. Finally we were allowed to enter our house.
The main problem is that my children suffered a lot. They are often crying. They donat feel that they have any future. The Wall was erected in just one day. In the morning they had a normal view, in the evening they had the Wall in front. They sat next to the window and started crying while looking at the Wall. How could this Wall appear so suddenly? Over time they have become more nervous. They say that they physically feel being suffocated. They feel pressure upon their breast. They come to me and say that they cannot bear it anymore. When they watch TV they see children freely playing; they see Walt Disney, they see that children are happy. They ask me to send them to playgrounds like a nice park. I tell them that I try but I cannot give them any promise. All my children think that their life will become worse in the future. They are aware, they are smart. They have high marks at school, but after seeing the Wall their marks went down, and I cannot do anything for them. They cannot concentrate on their studying with this pressure inside them.
My girl of 16 years old is always silent. She doesnat want to look at the Wall. She closes her eyes. She can't comprehend it. Till now she does not say anything about it. The other children are looking at it. The youngest one, of eight, said, "Wow, it is here like a tomb!" I try to tell my children that I am going to support them by asking the help of a great power, of leaders from abroad, who have the power to move the Wall. "Don't worry," I tell them, "I am doing my best." This is what gives them a bit of hope. I don't know what to do if no one asks about us.
The friends of my children say: Don't think about the wall, try to adjust to it until your family can do something about it. They invite them, because they cannot visit my children. My oldest daughter did not want to have a birthday party. She thought that maybe we would organize for her more than we could afford. I ask her, why? She said, because my father does not have work, and I donat want to put him under a burden. Her friends called me for her birthday, and they said that they would organize everything, that they would make a surprise for her, and would visit her at home. They brought a cake and gifts. Afterwards my daughter said that it was the nicest birthday since years. But then she started crying because she felt shy at the same time.
* * * * * * *
Freedom means for me living in a free country, not in a cage with a minimal amount of space, without the requirements of living. I wish that I could go abroad, with my children and husband, and my mother in law. My memories of freedom are buried in the past. God keeps me going on. We always pray to God to reach people who can help us in order to remove this wall. This is what gives me a bit of relief. I only want to live a normal life. When we go around Bethlehem by car, you see nice places; we go maybe once every three or four months to such a place.
As a young child, before the first Intifada, I used to live a nice life. We used to go everywhere by our cars, and almost every day to Jerusalem, because we live very close. There are a lot of parks there. We also went to the Mediterranean, we used to go there in the evening to swim, and to come back at night. The Dead Sea is also close. When I think about the past, I feel sorry for my children because I cannot offer beautiful things to them. To do so I would have to refuge from country, but it is hard for me and for my family to become a refugee.